The Coronavirus pandemic has been a very difficult time for us all. The national response has limited our contact with others and disrupted our normal routines. For many, challenges have been financial, mental and physical.
No-one was prepared for what the pandemic would bring but when it reached Australia, Kritima and her brother, international students from Nepal, were confused and stressed.
"We didn't know what to do or where to go as nothing was certain."
In the first year of her Masters of Biotechnology, Kritima arrived in Brisbane from Singapore in 2019. She says studying at UQ was "a dream come true" and before the pandemic, had enjoyed her studies, taking on a part-time job and the freedom of less reliance on her parents. However, she could not avoid the troubles wrought by the Covid-19 pandemic.

"It was frightening being away from family."
"There are many things to stress about, not just one. Everyone has lost their jobs and our parents savings are being used up to pay our fees and now rent and utilities! It is just too much to handle."
International students like Kritima are confronted with unique challenges in this country, even without the presences of global catastrophe. They are a long way from home, from family and from their support networks.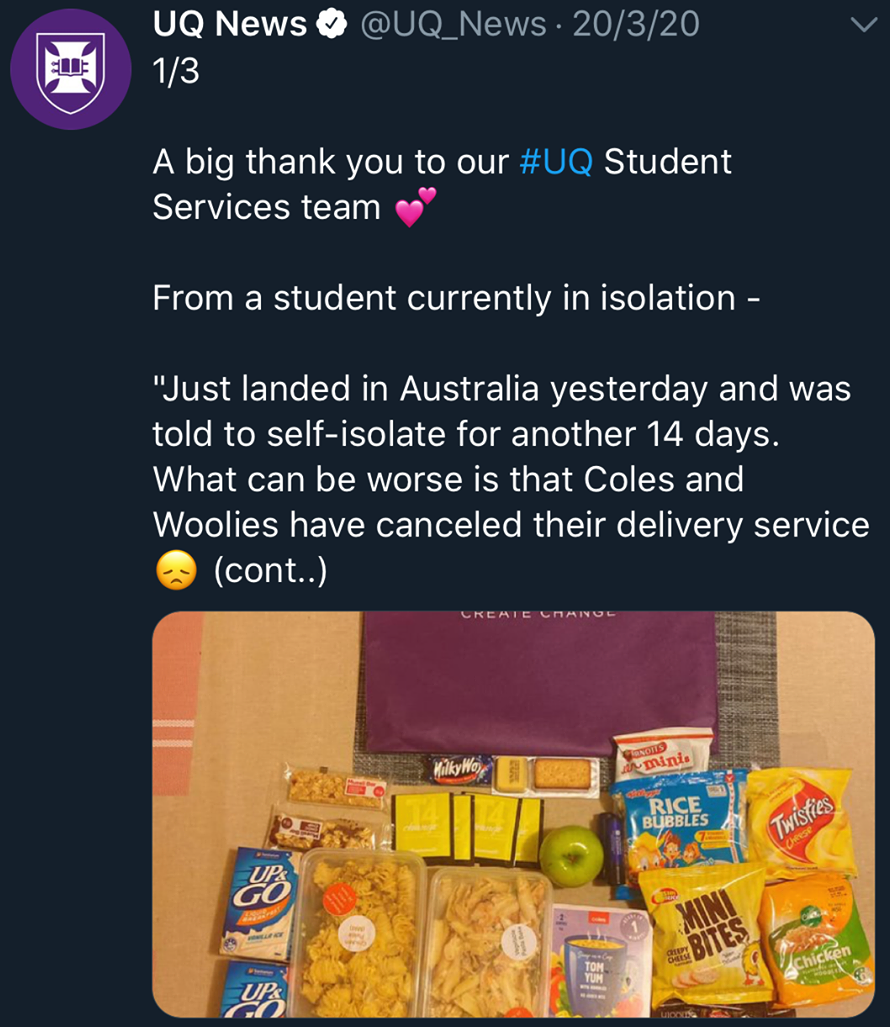 Recognising the unique struggles facing our international students and with thanks to the UQ Hardship Fund, the Hardship Hampers project was borne. The health and wellbeing of the UQ community has always been the utmost priority for The University, and an understanding that our newly arrived international students would be stepping right off a plane and into quarantine, presented an opportunity for UQ to help.
The project coordinator said it started as a helpful service for students arriving in Australia and needing to go straight into isolation.
"Arriving in a foreign country is hard enough without having to worry about where to get your first meal from when you have to stay indoors."
International students do not qualify for the same Governmental support that many domestic students have been relying on throughout the pandemic to help them get by. With this uncertainty of being able to make ends meet, the hampers project has stepped in to help give all students, both international and domestic, who are facing hardship some much needed assistance.
Kritina said, "hampers have helped us save some money. Going grocery shopping feels like a battle on its own and thanks to the hampers service, we are limiting our shopping to once every two weeks."
"[Hampers] consist of many good essentials including but not limited to pastas, cereals, milk, rice, noodles, fruits and some chocolates too. It is the only happening thing that we desperately wait for throughout the week"
"I would recommend [Hardship Hampers] to every student, particularly those who are all by themselves without their family and don't own any vehicles."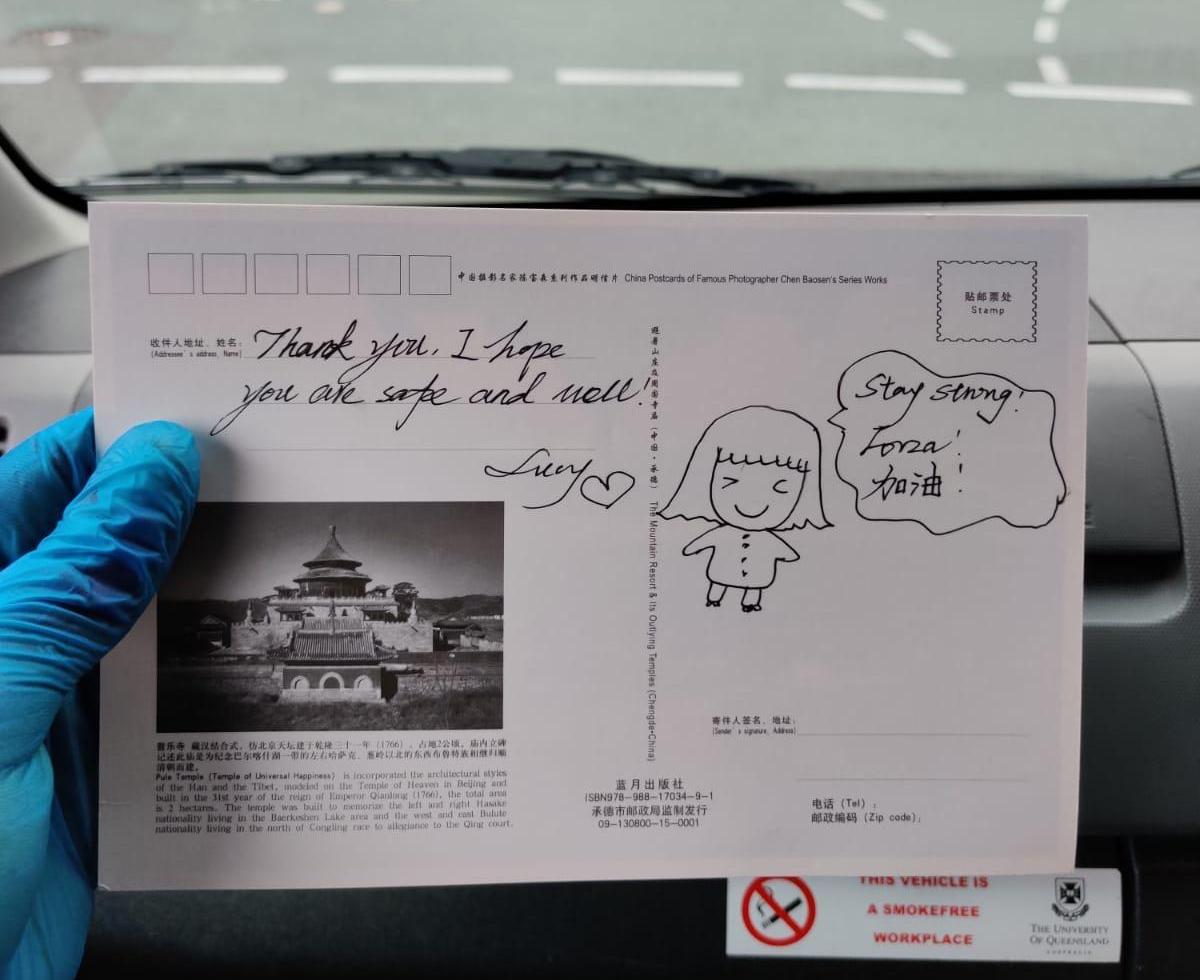 UQ has been providing hampers to students in need on a pick up basis, and for those who are also unable to access The University campus, by delivery, with our own students undertaking contactless delivery to help their peers.
"When we saw that Coles and Woolworths had stopped their online-delivery service, we reached out to our major partner, Costco to get our stock in bulk and be able to do more deliveries," explained the project coordinator.
"For the past 7 weeks, we have been distributing 500-700 free hampers each week to those students in need. With the support of Brisbane based charity, iSEE CARE we have been able to deliver to an extra 100 students a week."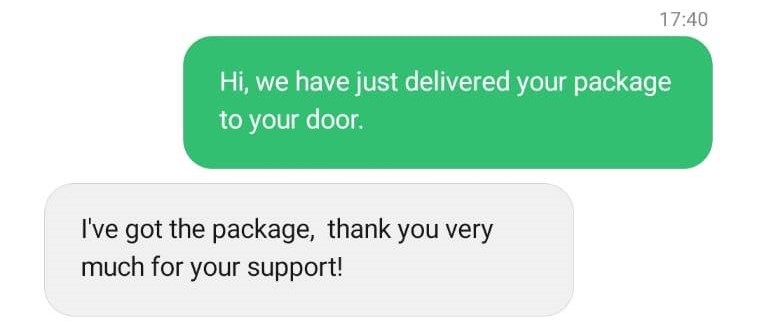 Kritima and her brother say the hampers food delivery service and the events hosted by UQLife make them feel part of the UQ Community.
"I am just trying to be busy and positive. We have to get through the pandemic first before thinking about the future."
"Now, I am slowly getting used to the new normal. I try to attend most of the fun events online to make myself busy and also get started on my studies. Positivity is the key - I can't let stress win over the virus"
The University continues to follow the directions of Government while taking all necessary action to minimise risks and provide support services where possible. With continued funding and partner support, Hampers will keep being delivered to students in need and the project expanded upon where possible.

Find out more about the support available from UQ:
Hardship Hampers
UQ Hardship Fund
Financial Support
UQ Coronavirus Advice
Contact Student Services