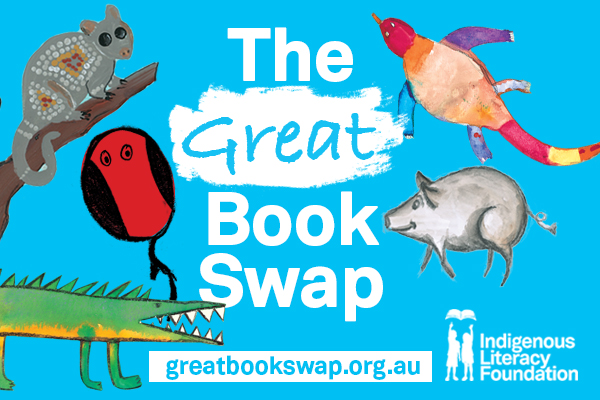 Choose any book and swap for a $5 donation.
The Indigenous Literacy Foundation is working towards equity of opportunity, so that children living in remote communities have the same opportunities as those living in urban Australia.

The Great Book Swap is a fantastic way to celebrate reading locally, and raise much-needed funds to continue their work. You will also learn more about Indigenous culture and language, while doing something small to make a big difference.

This year the goal is to raise $350,000 to gift 35,000 new books to remote communities who want and need them.

After all, how can you learn to read without books? Help us help them by making a donation to our Great Book Swap page and sharing it with your friends, family and colleagues! Thank you for your support.
All proceeds go towards The Indigenous Literacy Foundation.
About National NAIDOC Week
NAIDOC Week celebrations are held around the country to celebrate the history, culture and achievements of Aboriginal and Torres Strait Islander peoples. The week is celebrated not just in our Indigenous communities but also in increasing number of government agencies, community organisations, local councils, workplaces, schools and sporting groups.
UQ celebrates NAIDOC Week with our annual NAIDOC Festival early in Semester 2 each year, but this year we are also joining in with the rest of Australia and celebrating it during the officialy recognised week.
See how we celebrated earlier this year
Find out more about
COVID Safe Events
All events and spaces are operating in line with current guidelines. We ask that you please practice social distancing at all times.
You may attend an event or activity at a UQ location providing:
Have not been in close contact with an active COVID-19 case and are required to quarantine
You are feeling weel and have not had a fever, cough, sore throat, headache, distorted sense of taste, shortness of breath, chills, vomiting or any cold/flu like symptoms within the last 24 hours.
Venue
Campbell Place
St Lucia campus