Grace Tame Keynote Presentation & Panel Discussion
8 September 2021

2:30pm

–

5:30pm
More than raising awareness, this event is about inspiring action in pursuit of the important work that we do to address challenges our community faces in initiating respectful intimate interactions and maintaining safe relationships, free from violence and abuse.
Join us in discussion with Australian of the Year, Grace Tame, who has spent the last 10 years turning her trauma into advocacy, campaigning for survivors of child sexual assault and as a leader of positive change. Her focus is around enabling survivors to tell their stories without shame, educating the public around the process and lasting effects of grooming and working with policy and decision-makers to ensure we have systems that supports the survivors, not just the perpetrators.
You can submit your questions to Grace or the panel via the event registration.
Following this keynote presentation, we have a diverse panel of internal and external community members to discuss some actionable insights and steps we can start taking today to make a real change - however big or small.
Panel Members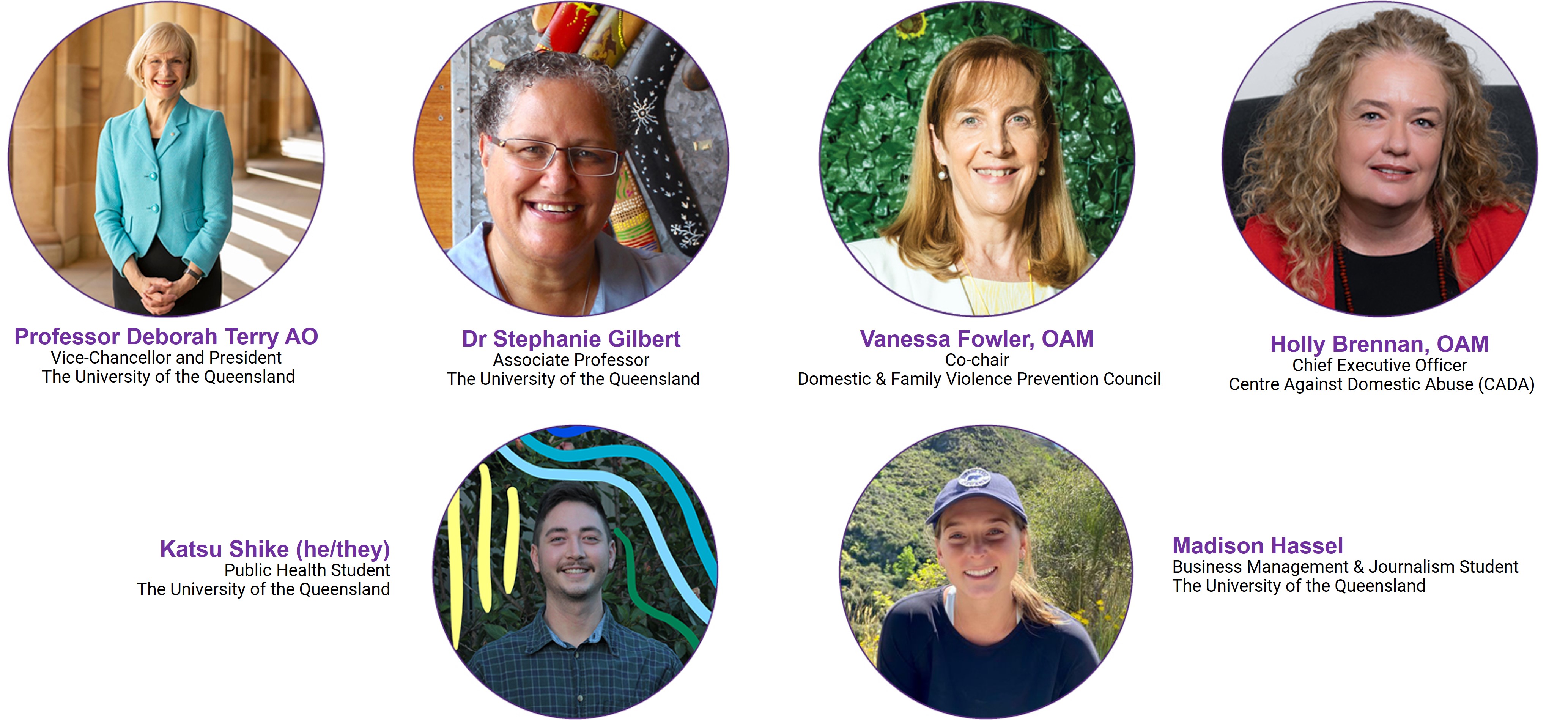 Professor Deborah Terry AO, Vice-Chancellor and President, UQ
Associate Professor Stephanie Gilbert, UQ Aboriginal & Torres Strait Islander Studies Unit
Vanessa Fowler, Founder, Allison Baden-Clay Foundation and Co-Chair of the Domestic and Family Violence Prevention Council
Holly Brennan, CEO, Centre Against Domestic Abuse and Board Member, Australia Women's Health Network
Katsu Shike, Student, Master of Public Health, specialising in sexual health and prevention of sexual violence
Madison Hassel, Student, Bachelor of Business Management & Journalism
EVENT DETAILS:
Date: Wednesday, 8 September 2021
Time: 2.30-5.30pm
Venue: UQ Centre, Union Road, St Lucia campus OR Online livestream via Zoom
RSVP: Please register by 8 September.
AGENDA:
2.30pm - Arrival and registration
2.45pm - Keynote presentation
3.45pm - Panel discussion
4.30-5.30pm - Networking and canapes in the UQ Centre foyer (for in-person event attendees)
About Student Safety Month at UQ!
This September, join the UQ Respect team for a variety of events and workshops to promote a safe and respectful campus community! Don't miss the feature events including an inspirational keynote presentation delivered by Australian of the year – Grace Tame, a panel discussion on primary prevention strategies to stop sexual, domestic and family violence as well as the weekly Respect Hub! 
From 6 September - 3 October, UQ is participating in the National Student Safety Survey conducted by the Social Research Centre. The survey aims to measure student perceptions of safety at Australian universities and experiences relating to sexual assault and sexual harassment. Head to UQ National Student Safety Survey website to find out how you can get involved and discover resources available to you. 
Venue
Room:
UQ Centre or Online Livestreaming