National Reconciliation Week
National Reconciliation Week (NRW) is celebrated on 27 May – 3 June across Australia. The week provides an important opportunity for Australians to come together and learn about our shared histories, cultures, and achievements. It is a time to reflect on the past and explore ways in which each of us can contribute to a more inclusive future.
As a nation, we should make a conscious effort to embrace reconciliation in all aspects of our lives. This will help us foster a society that values respectful relationships between the wider Australian community and Aboriginal and Torres Strait Islander peoples. For more information about reconciliation efforts in Australia, please visit Reconciliation Australia's website.
To commemorate National Reconciliation Week, multiple teams across UQ have organised events and activations. We invite you to explore reconciliation at UQ, our developing program below and join us in celebrating and supporting this important initiative.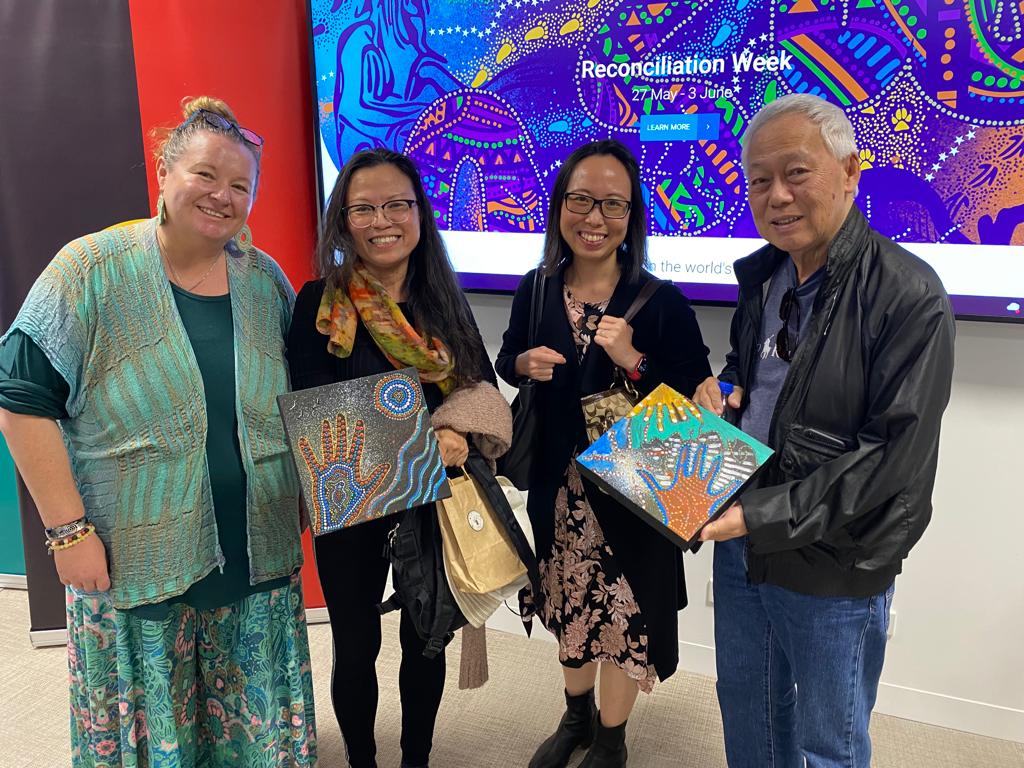 Theme - Be a Voice for Generations
The 2023 National Reconciliation Week theme, "Be a Voice for Generations," urges all Australians to actively promote reconciliation and cultivate a legacy of respect and open communication that will endure for generations to come.
It recognises that reconciliation is an ongoing process that requires collective effort, and emphasises the importance of building empathy, understanding, and respect between Aboriginal and Torres Strait Islander peoples and the broader Australian community. At its core, "Be a Voice for Generations" highlights the importance of listening to and learning from Indigenous voices, creating opportunities for their perspectives to be heard and valued. It also emphasises the responsibility of individuals and communities to promote reconciliation in their daily lives, and to pass this commitment on to future generations.
Overall, in this pivotal year of the proposed 'Voice Referendum', the 2023 NRW theme is a powerful call to action, encouraging Australians to engage in ongoing dialogue, education, and action to build a future that is equitable, inclusive, and just for all.
Days of Significance
26 May: National Sorry Day
National Sorry Day provides an opportunity for people to come together and share the journey towards healing for the Stolen Generations, their families, and communities.
26 May marks the anniversary for the Uluru Statement from the Heart, which was released in 2017 and includes a call for constitutional recognition and empowerment of Indigenous Australians.
The 1967 Referendum was a landmark achievement following decades of activism by Aboriginal and Torres Strait Islander and non-Indigenous people, where more than 90 percent of Australians voted in favour of amending two sections of the Australian Constitution to include Indigenous peoples in the census.
On June 3, 1992, the High Court of Australia overturned the principle of "terra nullius" or "nobody's land" as claimed by the British when they first arrived in this country. The decision has paved the way for Native Title legislation.
Events and activities
Tuesday 30 May, 10am – 2pm

Come learn about and support Aboriginal and Torres Strait Islander cultures at our Blak Markets event in Campbell Place. There will be live music, Indigenous-owned market stalls, local Indigenous food, and a cultural weaving workshop.
Wednesday 7 June, 5:30 – 8pm

It's time to start organising your trivia teams! Murri Trivia is back!! Learn and test your knowledge of Aboriginal and Torres Strait Islander facts.
Wednesday 31 May, 12 – 2pm

Learning does not just happen in the classroom! This National Reconciliation Week, expand your cultural knowledge by joining our Cultural Weaving Workshop.
Tuesday 30 May and Friday 2 June, 11am – 2pm

You're invited to the Alumni Friends of UQ Collection Study Room to see important artworks by Aboriginal and Torres Strait Islander artists.

Image: Tony Albert, "love boxes", 2007, mixed media on vintage playing card boxes, dimensions variable. Collection of The University of Queensland, purchased 2008. Photo: Joe Ruckli.
Wednesday 31 May, 11am – 2pm

Experience the Reconciliation Week activities at the Connection Hub, a collaboration between Get Connected and Get Involved. This engaging event offers a craft activity to reflect on the meaning of reconciliation, an Indigenous colouring activity, and the opportunity to sample traditional bush tea and Indigenous cookies. Don't miss it!
Monday 29 May - Friday 2 June, Daily 11:30am - 12pm

Join Museum staff for a guided walking tour of the exhibition, which features remarkable artworks and stories from across Australia.

Megan Cope Kinyingarra Guwinyanba, 2022. Burogari (Cyprus Pine), Kinyinyarra (Sydney Rock Oyster) shell and stainless-steel trace wire.
Photographer: Cian Sanders. Courtesy the artist and Milani Gallery.

Monday 29 May, 12pm – 1pm

Join UQ College for a fundraising event featuring a lecture by Professor Aunty Tracey Bunda on enabling programs and reconciliation, to support Aboriginal and Torres Strait Islander students at UQ College. Proceeds raised will be matched by UQC and be used to support Indigenous students studying at UQ College.
Thursday 1 June, 10 – 11am

Join a free morning tea event hosted by the School of Public Health on Thursday 1 June, 10-11am, and be a part of a conversation around the upcoming Referendum about the Voice to Parliament.
Friday 2 June, 1.30 - 3pm

This school seminar will showcase the work and activities of four Indigenous scholars working in university and non-university contexts. It draws on the fields of Art, History, Religion, Philosophy and Librarianship to illuminate relationships between Indigenous and non-Indigenous ways of knowing.

Image credit: A/Prof Fiona Foley's 2019 Film, '"Out of the Sea Like Cloud'. Premiered at QAGoMA, Cinema A, Brisbane.