There really is nothing like finding people to connect and share experiences with. When it comes to getting involved at UQ there are so many ways you can become part of the community and activate your campus life.   
We detail the five easiest ways for you to make the most of your time at UQ in 2022!   
Volunteer and give back to your community!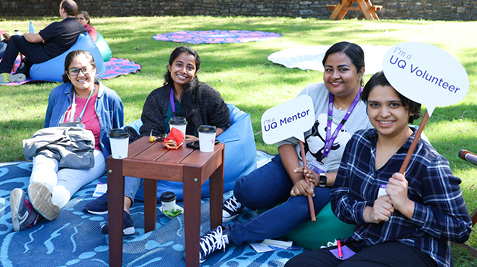 Have you ever thought of giving back but unsure on where to start? UQ offers an impressive range of volunteering opportunities for you to make friends, gain workplace experience, build your professional network and connect with others at community events. There are currently over 1100 volunteers registered with get Involved and over 800 have participated in opportunities this year alone! Through volunteering you could be engaging in activities or events that empower students to share ideas, give feedback or even encourage greater social connection both in person and online. UQ volunteering is flexible and tailored to work in with your schedule – join as much or as little as you like throughout the year. We are confident there is something that will interest you! Volunteering can also count as a supplementary activity towards the  UQ Employability Award.   
How can you volunteer at UQ? Glad you asked… 
Visit the Get Involved website. Click on 'Get Involved' under Volunteering tab.   
Fill out your details by completing the 'Get Involved - Registration' form.    
Complete the short online training module.   
Find your ideal position and apply for opportunities that appeal to you!    
Share your skills and knowledge by Mentoring 
Like many greats before you, there is always someone who has helped to shine a light on the right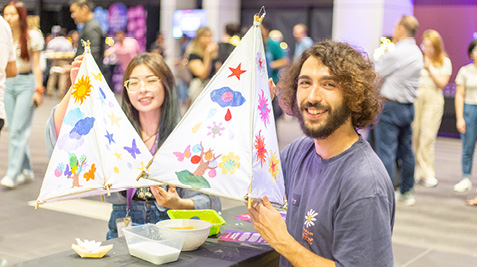 path to guide others to reach their full potential. Mentoring at UQ is more than just helping others it gives you an abundance of opportunities to develop your leadership skills, meet like-minded students, add valuable job ready skills to your resume and improve your networks tenfold. Mentees (students receiving mentoring) have incredible access to a wide range of professional development opportunities. There are over 30 mentoring programs on offer at UQ and have over 11000 active members! If you are looking to give yourself the edge in building your employability, mentoring is a sure way to get you noticed by the right people. Much like Volunteering, Mentoring can count towards the coveted UQ Employability Award.   
How can you access mentoring opportunities at UQ? All you need to do is… 
Head over to the UQ Mentoring website 
Explore the 30+ programs to find the one that suits you best and click on it 
Create a profile with our mentoring software—Chronus— and get connected with mentors and students.
Raise your voice in a meaningful way with our Student Representation programs 
Ever feel like you want to create and drive change on campus but unsure where your voice might be best placed? At UQ we offer opportunities for students to have their voice heard on over 200 committees that include numerous Student Advisory Groups and Student-Staff Liaison Committees. Part of Student Representation is gaining access to talk to the movers and shakers on campus! One of the best parts of our Student Representation program is the ability to be able to foster relationships with people from diverse backgrounds and get different perspectives on university life. When your voice is heard, you become an advocate for other students in your community and by sharing your feedback with the right people you can effectively make change for the better on campus!   
How can you participate in Student Representation? It's as easy as… 
Using the Student Representatives Directory to find and reach out to the student reps in your faculty or cohort. 
Check out the Academic Advocacy Network and reach out to the reps there. 
If being a student representative yourself is something you're keen to explore more, register to Get Involved – complete one core induction and be ready to apply for the opportunities specific to your course or interest areas when they become available. 
Create real change through Student-Staff Partnership Projects
You may or may not know this, but there is a fantastic program called Student-Staff Partnerships Projects. This program is designed for students to team up with UQ staff to create meaningful change in the community through working together on specific projects to create strategic solutions to problems. Over 627 projects have been instigated since the program started in 2018 bringing together hundreds of staff and students who have created meaningful change together. By being part of a Student-Staff Partnership Project you can connect with other motivated students and staff to do even more amazing collaborations that improve the university experience for all into the future. Plus, you can develop key transferrable skills that employers value, and receive a grant for your participation!   
How can you become a student partner on an exciting project? Do this… 
Visit the Student-Staff Partnerships webpage
Scroll to 'How do I become a Student Partner?' to check out what's involved and all the options available to you.  
Reach out to the SSP team at ssp@uq.edu.au to find out more about the specific opportunities you are interested in.   
Join a Club or Society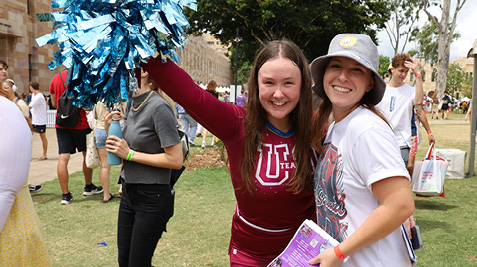 The UQU (University of Queensland Union) is one of the best places for you to get acquainted with other students with similar interests. Got a hobby or niche that you like? Chances are there is a club or society to fan those flames. There are over 220 affiliated clubs and societies at UQ to join and be a part of. So much so, our recent numbers show that there are over 35,000 students making the most of their niches and hobbies within the clubs and society space! Think sports, arts and culture, academia and activism clubs and societies all at your fingertips. We guarantee, if you can think it, there will be something for you on campus! What is so exciting about UQU's Clubs and Societies is that many have years of history which can be a terrific way to learn even more about UQ!  
How can you join a club or society? It's simple… 
Visit the UQ Union (UQU) Clubs and Societies webpage 
Find the Club or Society that you're interested in – you can join as many as you want! 
Click the 'Join Now' button to register or follow the Club/Society on social and start connecting! 
So, what are you waiting for, dive into an opportunity and make the most of your time at UQ! Building a thriving campus life starts with you!  
For more information head to the Get Involved Website today!