Fifty-three University of Queensland students are due to graduate this semester with more than just a degree after achieving the Employability Award.
The Employability Award is presented upon graduation and recognises a student's enhanced employability development through their contributions to volunteering, work experience and extra-curricular activities within UQ and the wider community.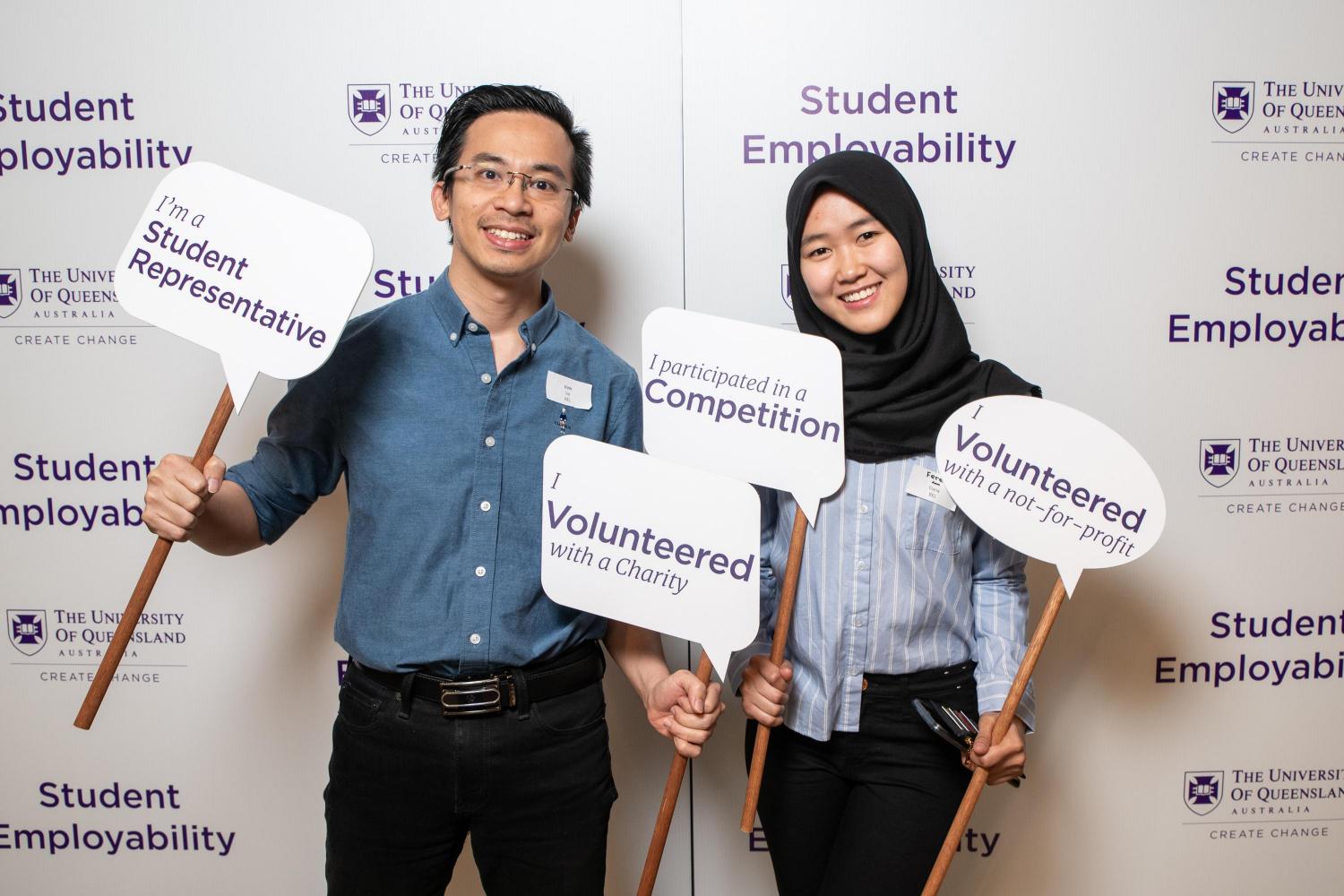 The program is coordinated by the Student Employability Centre and is available to all undergraduate and postgraduate coursework students who wish to develop their employability through engaging in a diverse range of extra-curricular experiences. 
Based on the concept of experiential learning, and aligning closely with the UQ Employability Framework, the program encourages students to participate in and reflect on experiences to understand what capabilities and attributes they have developed.  The program culminates in an application and interview process where applicants demonstrate their ability to effectively communicate their employability during the recruitment process and beyond.
Employability Award recipient Haarika Chittoory is nearing the end of a Master of Biotechnology Research Extensive at the University and said the highlight of her experience was gaining the ability to network with others.
"This program helped me develop so many interpersonal skills and gain the self-confidence to pursue my dreams," Chittoory said.
"I am now in the practice of reflective thinking and learning and would definitely urge students to stay competitive and complete all the activities because it is absolutely worth it".
In addition to the many other benefits associated with the Award program, recipients will be issued with a certificate upon graduation and have the Employability Award listed as a Special Achievement on their academic transcript.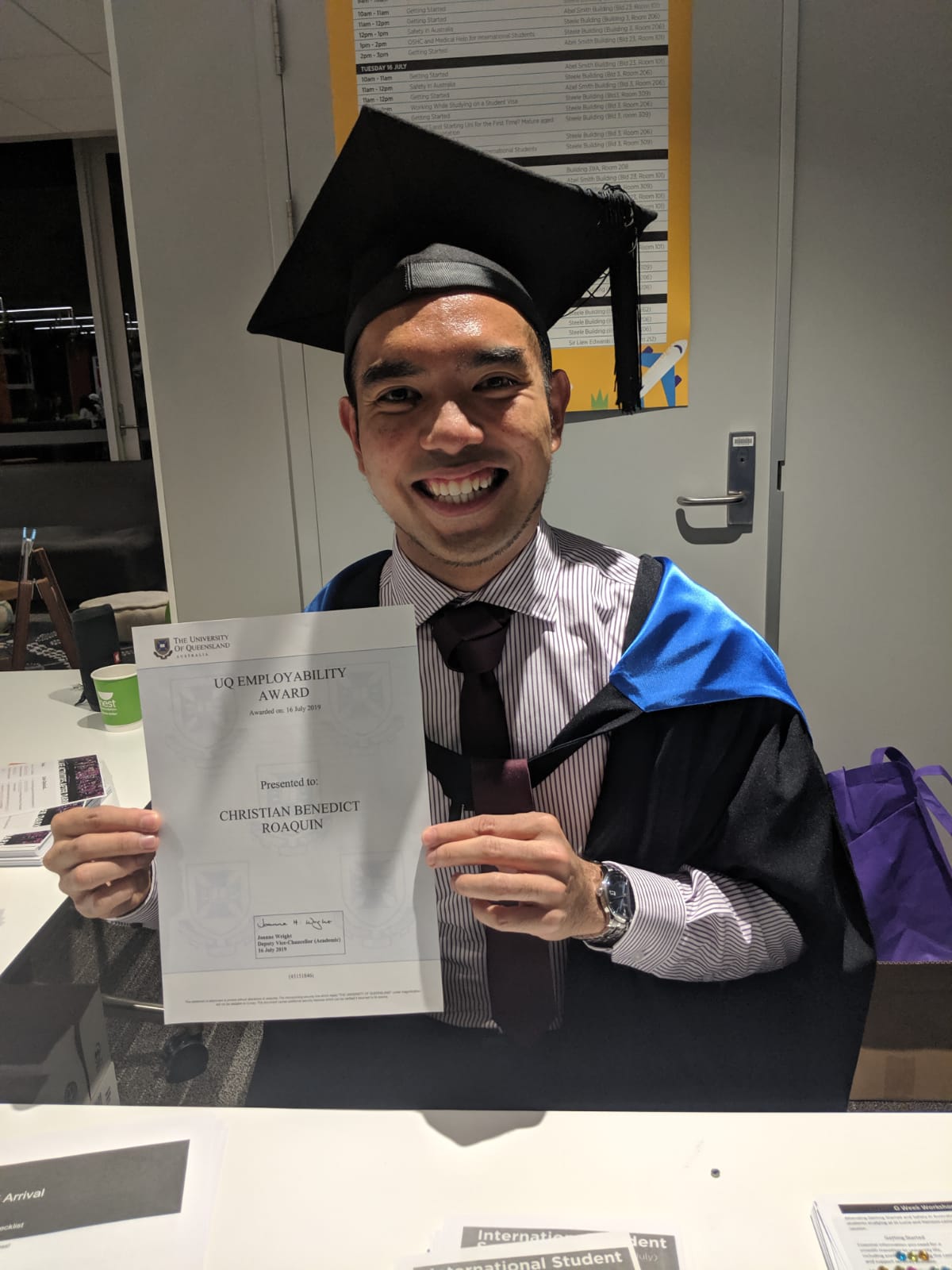 The University of Queensland wishes to congratulate the following Employability Award recipients for Semester One, 2020.
Juan Sebastian Alban Betancourt
Rhea Albuquerque
Robin Allsopp
Elfilia Angelina
Emily Bakes
Ameya Bhagwant Deshmukh
Zhanbo Bi
Ilha Byrne
Hei Man Chan
Liqin Chen
Haarika Chittoory
Peggy Stefany Dano
Wenhao Deng
Eugene Dragut
Georgia Esplin
Isabella Frew
Grace Fuller
Geethu George
Taylor Green
Sarah Hamid
Mitchell Harrigan
Ryan Harris
William Hayward
Montana Hickey
Ying Jiang
Reyshma Kselvakumar
Gwan Lau
Yingying Lee
Georgia Lennard
Mingchuan Li
Yen Lin
Lin Lin
Fangfei Liu
Jiang Liu
Lee Lumayag
Tsz Wai Ray Mak
Trent Maurer
Katrina Muguira
Louise Muncaster
Catherine Nguyen
Cameron Niven
Kate Piercy
Georgina Poniewierski
Araceli Yasmin Rodriquez Castro
Jiaxin Shen
Yuntung Shen
Shreyas Shet
Reiko Terade
Gabriella Tomarchio
Declan Twohig
Julia Vanhaeringen
Nurfarahain Zoelkefli
Tara O'Kane
Find out more about the Employability Award.