Bringing Student Voice Week to life
Meet the face of Student Voice Week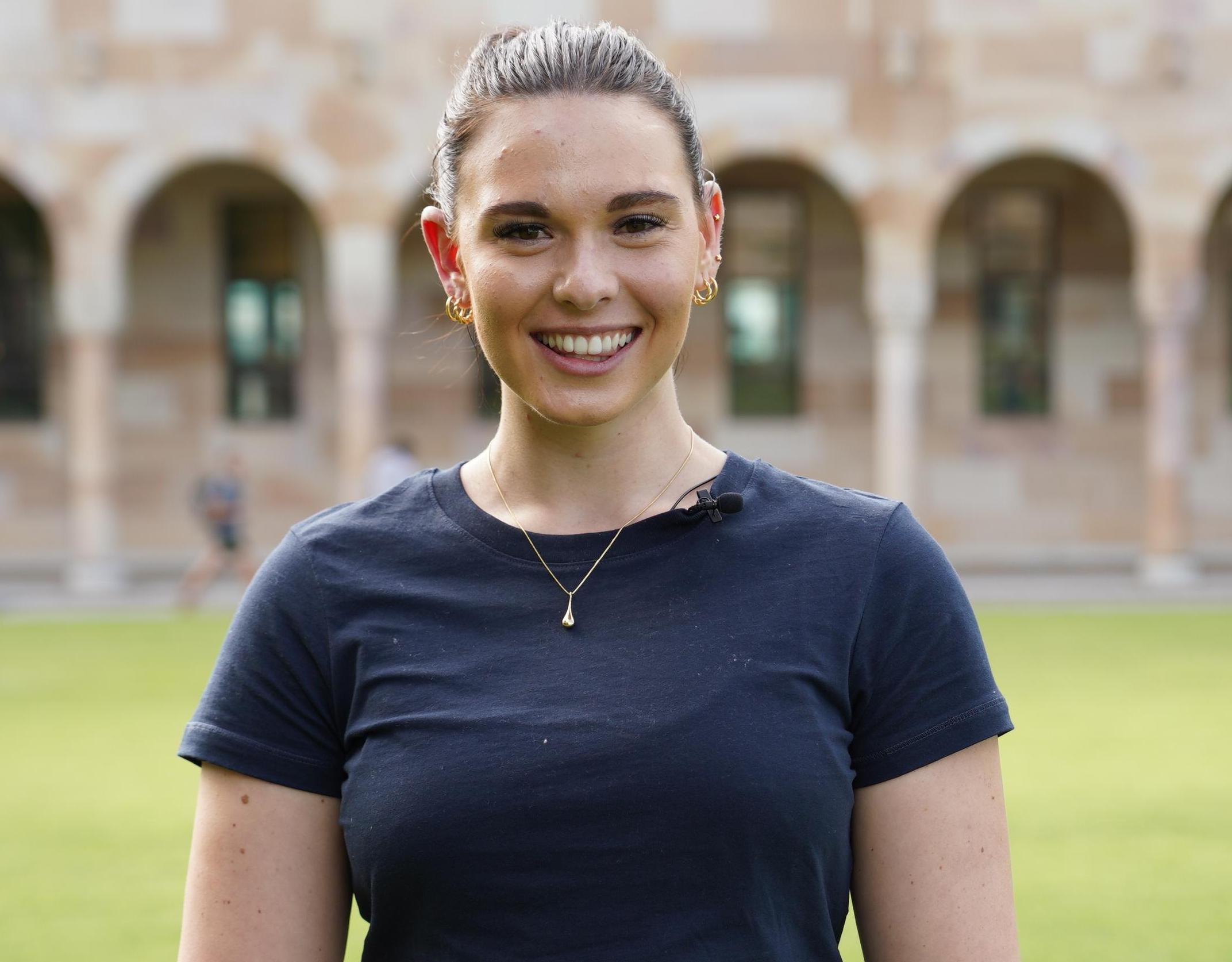 Name: Courtney Randall
Pronouns: She/Her
Student Representative Role: Faculty of Humanities and Social Sciences (HASS) Board of Studies Undergraduate Student Representative
Student representation and advocacy play an important role in the UQ community. Therefore, it is crucial that the student voice is both supported and empowered at all levels across the University. UQ has a number of student representatives that are involved in the UQ Student Union (UQU) and its associated Student Collectives, as well as School or Faculty Committees and discipline-specific Student Advisory Groups (SAGs). I have developed the Student Voice Week campaign to raise awareness of the many student representation groups at UQ to help facilitate better communication between students and staff at the University. It is important that students know who their representatives are and where to find them so that feedback can be more effectively received and acted upon across the University! 
Keep an eye out on all the UQLife social media channels throughout the week to find out more on student representation and advocacy at UQ! 
What is the purpose of Student Voice Week?
Student Voice Week aims to raise the profile of Student Representatives across UQ and bridge the gap in communication between students and their Representatives. Student Voice Week has been designed to achieve four key objectives
Empower the UQ student voice through increasing awareness of student representatives and their roles within the UQ community
Assist with community building efforts by strengthening relationships between students and student representatives, student representatives and staff, and students and staff
Educate students on the governance structures at UQ and where student representatives are situated within this
Encourage students to contact their representatives with any feedback related to their learning experience.
What is a Student Representative?
Student representatives are liaisons between staff and students and are part of School, Faculty and Executive committees and boards as well as a number of other divisions and disciplines. Student Voice Week will capture the diversity of student representation at UQ through featuring a range of student representative bodies, advisory groups and collectives from each of the faculties and inclusivity organisations.Student representatives work with staff to provide an informed and representative student voice on a variety of academic and non-academic matters, which include:
Assessment issues and course concerns
Equity and equality in education
School and/or Faculty-specific feedback
Disability support services
Postgraduate student assistance and networking
Indigenous and Torres Strait Islander student representation and support
Employability scheme improvements
Teaching and learning standards
LGBTQIA+ allies and support
Mental health and wellbeing
International student support
Get involved in Student Voice Week
Submit your video response to help build the new UQ student strategy!
UQ wants your feedback on issues that matter to you. Submit a 30 second video on your camera, phone or smart device and answer three questions about UQ. Your video will be submitted to the Vice Chancellor and will help build key agenda items for the next student strategy!
Contact Student Representative groups and Collectives
So now you have more of an idea about what a Student Rep is and what they do, you might be asking who are they? This is what Student Voice Week is all about! Find out how to get in touch with Student Representative groups and collectives featured in Student Voice Week.
Pop your feedback in the Virtual Voice Box!
Have your say on what matters to you. Use our Virtual Voice Box below to submit your ideas for improvement across the university. All suggestions will be directed to UQ Student Representatives! Find the Virtual Voice Box on-campus all week as well as online to have your say - keep an eye out for our Voice Week volunteers who will be roving with the box with some sweet incentives.
Events and Information for Student Representatives
Register for the Student Reps Forum!
This invitation only event is for all 2021 Student Representatives to connect, network and learn from each other's challenges, wins and areas of concern. This is a great opportunity for Reps to meet each other, get familiar with other Committee Groups and get a better understanding of the Student Voice landscape.
Find out about Student-Staff Partnerships (Representation and Voice)
If you are a current Student Representative or UQ staff member looking for Student Representatives, get in touch with the Student-Staff Partnerships (Representation and Voice) team. The team can support staff to recruit for student representatives within their area and provide support and training to current Student Reps as well as connect them to exclusive social events and networking opportunities
Join our Student Reps Registrar
The Student-Staff Partnerships (Representation) team are compiling a registrar of student representatives and advisory groups across UQ to make visible to all students. If you are a current Student Representative and aren't listed above, submit your details to the SSP team with the name, title, position and contact and they will be in touch to learn more about your area.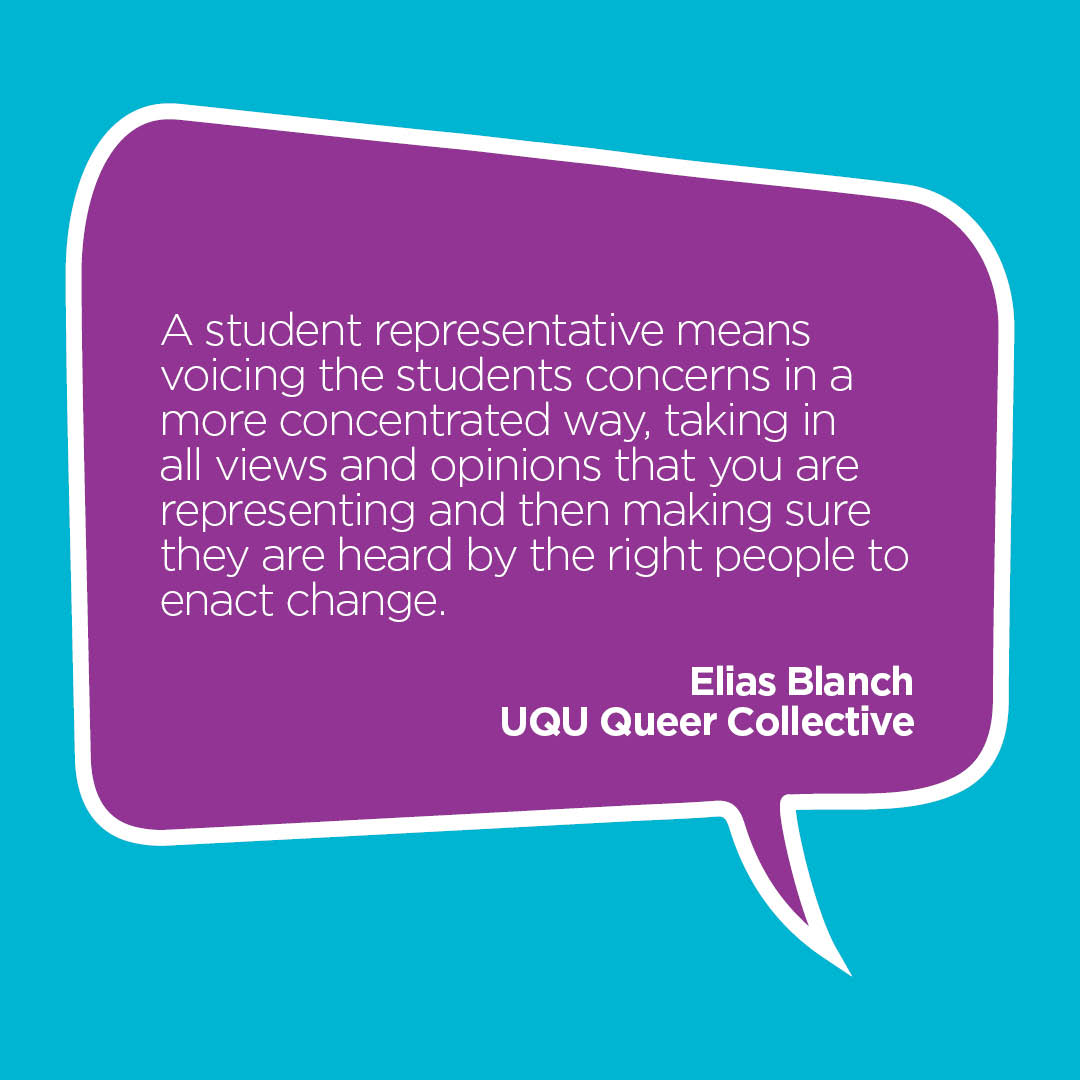 How can I become a UQ Student Representative?
Do you have a passion for creating change? Are you interested in student issues and giving back?
You should think about becoming a UQ Student Representative! Student representative positions are available on a number of different platforms like StudentHub, via the UQ Union Advocacy page as well as advertised by your School or Faculty throughout the year. You can also become involved in student representation through the Student Staff Partnership program!
Learn more about becoming a UQ Student Representative