What is National Volunteer Week?
National Volunteer Week is held from Monday 16 - Sunday 22 May 2022 and is an annual celebration that acknowledges the generous contribution of our nation's volunteers. The week says thank you to millions of Australians who volunteer their time across the country selflessly each year. In particular it is important to UQ, as it is a chance to recognise and celebrate our own UQ volunteers who have generously dedicated their time welcoming and mentoring students, giving back to the environment and assisting the community.
This year's national theme celebrates and acknowledges "Better Together". Through volunteering, we are changing communities for the better. We are Better Together.
We want to thank everyone for their tremendous efforts over the past year and continue to recognise those who make a world of difference, contributing to all facets of the economic, social, cultural and economic well-being of Queensland and the nation.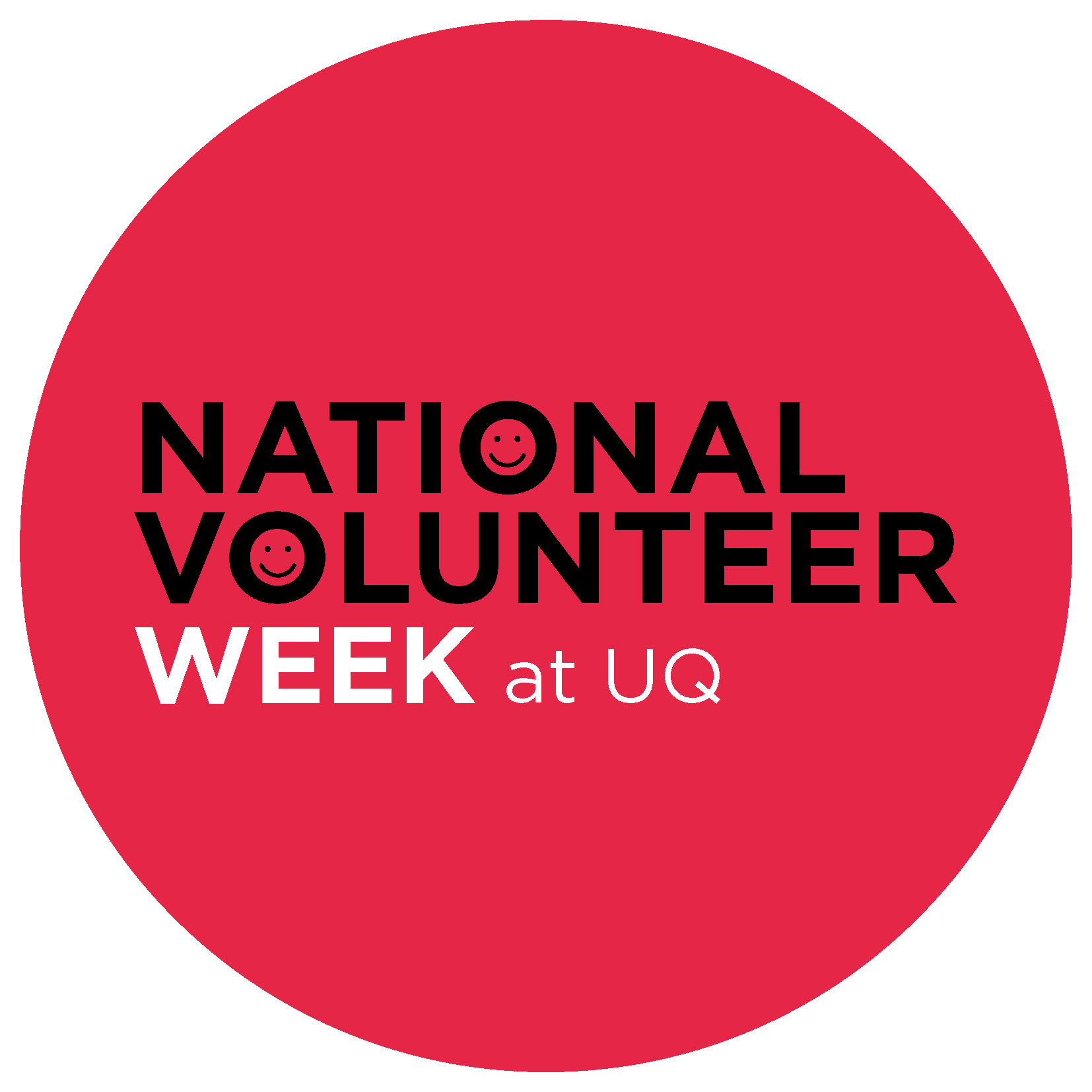 What's On
Our friends from the Red Cross Life Blood are back on campus! Last year we had an amazing turn out of students to help UQ secure our place at the top of Blood Donations across Australian Universities!
Meet all the movers and shakers at UQ and in the community, and find ways in which you can get involved. We have a range of local not-for-profit organisations joining us in Student Central, so don't miss out!
What brings joy to you? Come to Student Central and make a difference by leaving a message of inspiration for one of your fellow peers to take with them and make their day that much brighter!
I got so much more from Volunteering than I ever thought!' Listen to current and past UQ students' stories about what they have gained from volunteering. You can join the conversation and explore all the ways that volunteering can enhance your student experience and beyond.
Get Involved Appreciation Station (Invite Only)
We are hosting our annual National Volunteer Week appreciation event to show support for our UQ volunteers, mentors and student representatives to celebrate all that hard work they do for the university community and beyond.
Our Gatton and Herston campus' will also be joining in the National Volunteer Week festivities the following week, on Wednesday 25 May. Join the Get Involved team as we show our support and appreciation for our current volunteers, mentors and student representation.
Join the wave! Put your hand up and wave your appreciation for volunteers at UQ and in the community by adding a smiley face on your hand and upload a photo to social media with #WaveForVolunteers and #NVW2022 & tag @uqlife
Forgan Smith Building will be lit-up in red all week to recognise the fantastic contributions of volunteers. Locations across Brisbane will also be lit up in red as part of Queensland Lights up for Volunteers.
Are you curious about Careers and want to know where and how to seek Career advice? Bring your own cuppa and join us online to connect with other students, members from the Careers team and special guest Andy Parkinson from Volunteering QLD.

Do you want to know how to translate your passion into a career that is both socially and personally meaningful? Don't miss this exciting opportunity to join BEL Careers and Employability as they host an in-person panel with a range of inspiring professionals in purpose-driven careers.
Ways to Volunteer
Find out how you can become a part of the Volunteering frenzy at UQ! There are a number of ways you can get involved in the UQ community to help you develop professionally, create an impact, connect with other students and staff and celebrate your achievements. There are hundreds of opportunities and projects across UQ that give back! Find out how below.
Employability Award
The Employability Award is a structured program that recognises the personal and professional development you can gain from your involvement in activities above and beyond your academic studies.  It is essentially a learning program that will guide you through a range of experiences and reflections to unlock your potential. 
Participation is open to both undergraduate and postgraduate coursework students studying at UQ with the opportunity to receive the Award upon graduation.